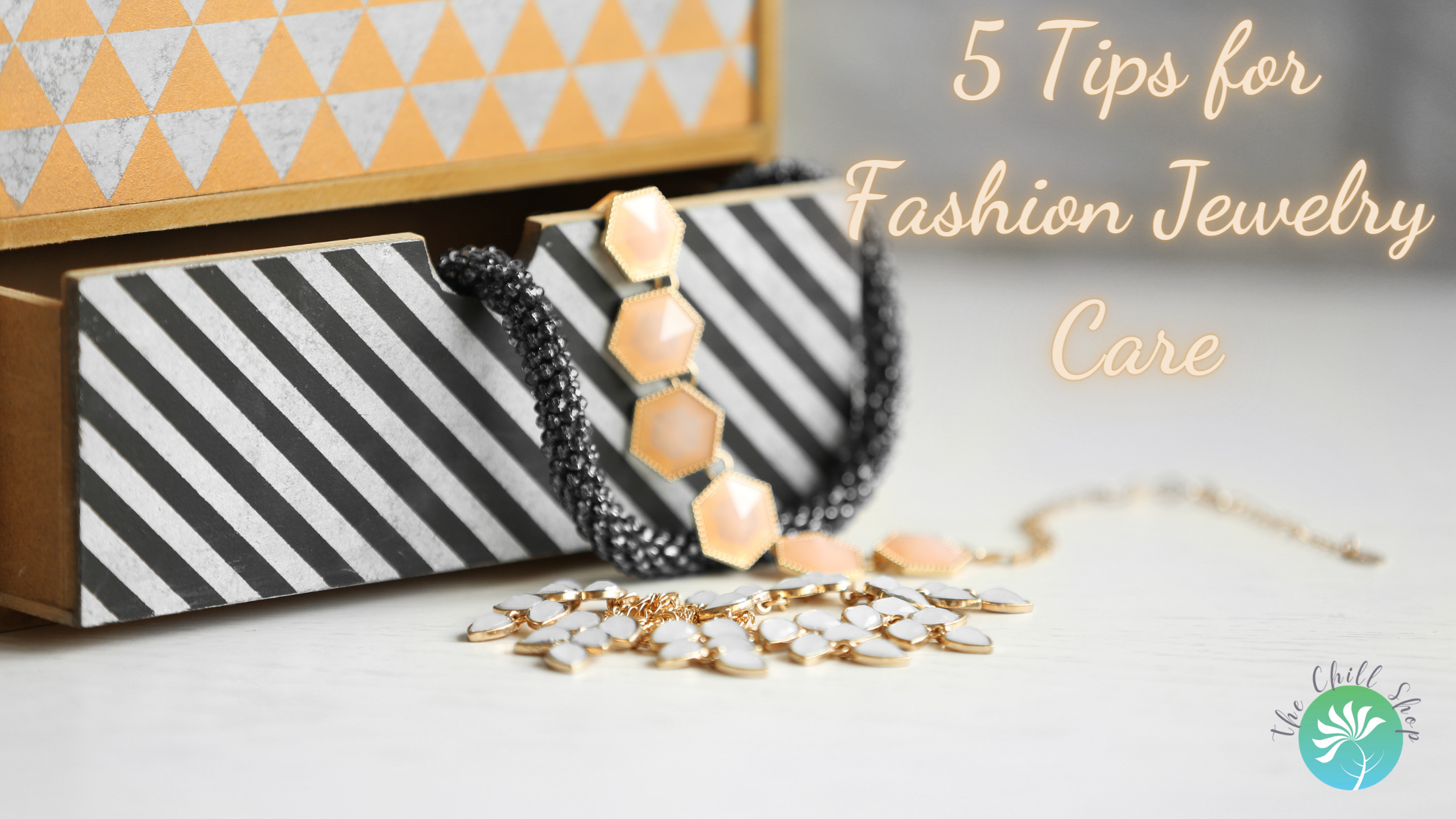 I have to admit, some of my favorite pieces of jewelry are NOT my expensive precious gems and platinum pieces. They are my everyday fashion pieces. These beauties ironically are a bit more delicate in that precious metal cleaners (think silver polish) are not good for them. And I described them as "everyday", so they are certainly getting worn more often!
I think it's safe to say that pretty much all the items we sell in The Chill Shop today are fashion pieces. Most metal components are plated metals (both gold and silver), and our beads range from semi-precious to glass and crystals to pearls. Oftentimes we will incorporate many different materials in one design. 
Therefore, I thought it would be a good idea to share 5 tips on how you can take care of your fashion jewelry. Because YOUR favorite piece may not be your most expensive one. 😉
Tip 1: Keep your jewelry dry and clean.
During the day or when you take it off at night, you want to make sure you are keeping your fashion jewelry dry and clean. We send small jewelry cloths in every order we send out. Use this cloth to wipe down the jewelry when you are done wearing it for the day. Oils from you skin can get on the metals when wearing them, so give it a gentle wipe before storing it.
Tip 2: Don't do dishes, chores or exercise with jewelry on.
As with tip 1 above ☝🏻 , doing the dishes while wearing your fashion jewelry is a big no-no. Take the few seconds to remove your rings and/or bracelets before you dive into the suds. We don't always know which chemicals are used in the soap, so it's best to be safe than sorry. 
Tip 3: Don't use jewelry cleaner.
Unless you know for certain that the metals used in your fashion jewelry are sterling silver, gold or platinum, then don't use jewelry cleaner. The chemicals in these solutions are too harsh for the plated metals that fashion jewelry is typically made with. 
Instead, use a soft cloth to wipe away the day's residue from wearing the piece. All our jewelry comes with a soft cloth for this reason. You can easily use it when you take off your pieces before storing them (as mentioned in #1).
Tip 4: Put it on last; take it off first
You want to make sure you are putting your jewelry on after you have done everything else in your morning routine to get ready. After you apply lotion (you don't want to have to move it around with lotion on your hands), after you put on perfume and makeup (you don't want these things landing on your pieces) and after dressing (nothing worse than snagging a favorite piece on clothing and having it break or become misshapen).
Just make jewelry be the last thing you put on at the beginning of the day, and the first thing you take off at the end of the day and you will prolong the life of your pieces.
Tip 5: Store it properly
If you are like me, you have more pieces of jewelry than you know what to do with. And you may have to make further investments to get the right type of storage for you. But the key point here is that you should have something to store your jewelry in.
Hanging necklaces can help keep them from getting into knots. Having spaces for rings will prevent them from scratching each other. Same thing for your earrings. 
I got this hanging armoire (that hangs over a door) to keep some of my jewelry. I do end up storing my bracelets in a different jewelry box right now. Eventually, I'll look for a DIY project on Pinterest to make something.
The key here is to make sure you are storing your pieces in a manner that will protect them. If you don't have storage just yet, the best thing you can do with our jewelry is to use the boxes we ship our pieces in. Then find a drawer or storage bin to keep those boxes. We also supply tarnish-resistance strips in our boxes to also help protect the pieces from the elements. 
At the end of the day, it doesn't matter if you have economical jewelry pieces in your collection or very expensive pieces, both need to be taken care of. If you remember these 5 tips, no matter the type of jewelry you own, it is sure to keep putting a smile on your face every time you wear it. 😍
Until next time, 
Dianna