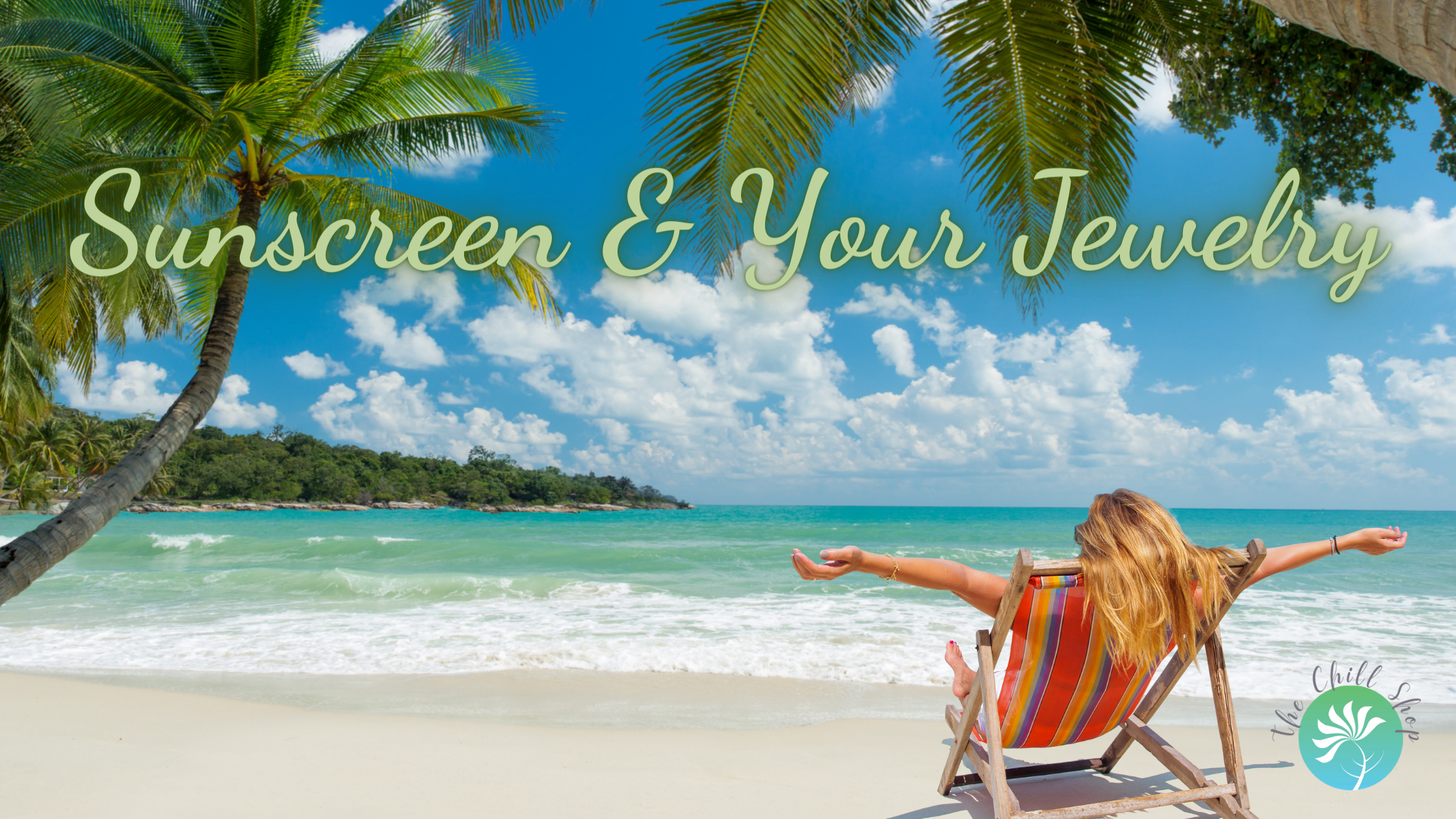 Hello March! This is the month that gives us back our sunshine (hint-hint…be sure to set your clocks ahead on March 13th). And it's also the kickoff month for Spring Break. Woohoo! 🎉
And with Spring Break comes sunscreen. So that got me thinking about sunscreen (or really any lotions) and your jewelry.
Last month I talked about 5 Tips for Fashion Jewelry Care, and this month I want to specifically focus on lotions and your jewelry. Because when you take care of your beauties, they can last for a long time. 🤩
Before heading out into the sun, you make the conscious decision to protect your skin. So before you start applying sunscreen, pop off any jewelry you are wearing. The ingredients in some lotions and sprays are such that they can dull precious and semi-precious gemstones and just about all metals. Even sunscreen that doesn't have harsh ingredients will still dull your jewelry. And if your pieces have any plastic components, then those too can really be affected. 
The same rule applies to any bug spray you may be using while having your fun outdoors. With potentially more chemicals in these sprays and lotions they really can have adverse effects on your jewelry.
If you are at an event by the pool and must be dolled up, then it's fine to put your jewelry back on after you apply your sunscreen. However, you may want to lightly wipe the areas where your jewelry will be (don't completely remove the sunscreen, but make it a thin layer). There is nothing worse than getting glammed up only to have your jewelry react with the sunscreen leaving green, brown or black smudges on your skin where it comes into contact with your jewelry. Yes, this happened to me.
My coveted watch is my Rolex (sadly it doesn't get much airtime these days due to the health tracking I do with my Apple Watch). I wore this thing ALL the time. And every Spring Break I'd take off my watch and wedding ring, spray on the sunscreen and put them back on. Only to have a black ring around my wrist. See, I wasn't too good at cleaning the band on my Rolex. So when I put it back on my sunscreened (yes, I made up that word haha!) wrist, it loosened up all the muck in the band and rubbed it off onto my wrist. Not a pleasant thing to experience. So do better than me and make sure you are keeping your pieces clean. 😉
Also keep in mind if you end up deciding to take a dip in the pool, then you definitely want to remove any jewelry as the chlorine in the pool has a strong potential to ruin your pretties. Being submerged in water for long periods of time can also loosen any glues or adhesives that were used to create your piece, so that's another reason to take things off before you jump in.
There are too many sunscreen products out there and too many design compilations of jewelry to list out every scenario you may experience. That's why it's a good idea to follow the basic recommendations no matter what type of jewelry you are wearing. Take it off to apply sunscreen and take it off if you are cooling off in any type of water. It really just boils down to common sense. 
With all that we have gone through as the human race the past two years, I'd love to hear if you have any Spring Break plans for this year. While we more than likely will not be going to our beach retreat we've gone to for the past 20 years, we'll probably still be heading out to be with family. Tag @thechillshopllc on social so we can see you having fun in the sun with your precious! 😍
Until next time,
Dianna